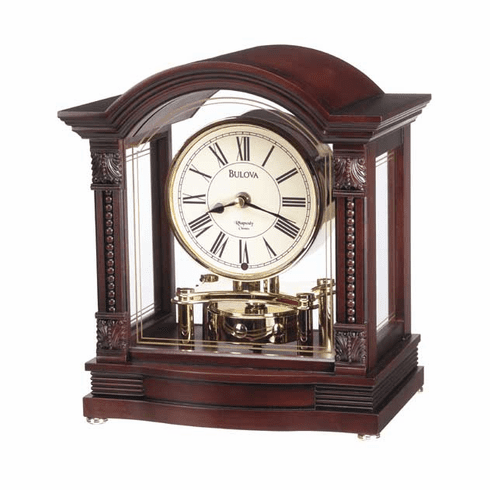 Bardwell Mantel Clock by Bulova
Bardwell Mantel Clock
Free Shipping!
30-Day Money-Back Guarantee!
1-Year Manufacturer Warranty!
From the Rhapsody Collection, this clock features a wood case with an antique walnut finish. Decorative carved accents. Polished brass finish accents and revolving pendulum. Decorative screened glass front and side panels. Removable clear acrylic back panel. Choice of Westminster, Ave Maria or Bim-Bam melodies. Counts the hour. Adjustable volume control. Three-position chime switch offers choice of silent, nigh shut-off or lowered volume at night. Requires (2) AA, (2) C batteries, not included.
Hand assembled. Quartz clock movements ensure reliability and trouble-free service. Includes 1-year manufacturer warranty. Requires 2 "AA" and 2 "C" batteries (not included.)
Bardwell Mantel Clock
Dimensions: H: 10.75", W: 9.5", D:6.5"
Listen to the Chimes here